Want to learn more about the people of ice and legend?
Martial Cultures: the Ikanoi
brings you 20+ pages of new and expanded content. Learn more about Ikanikon folklore, and the ancestors and snow sprites who populate it. Find your Ikanikon zodiac sign, or find out what happens when a bargain with the snow sprites goes wrong.
The crunch is for 4e D&D, but the fluff can fit into any medieval fantasy game.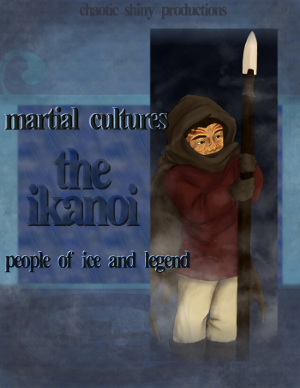 When you buy Martial Cultures: the Ikanoi you get:
A fully bookmarked pdf with over 25 pages of fluff and crunch
Power cards for each of the new utility powers in the book
A printer-friendly version of the pdf
Our money back guarantee - don't like it, let us know within 30 days, and get your money back
Buy MC: Ikanoi now for only
$4.95
!
What can Martial Cultures: the Ikanoi do for me?
If you're a DM
, it gives you more information on how to add the Ikanoi to your game, as well as a skill challenge for any players passing through Ikanikon territory. You get more in-depth cultural information for your NPCs and more plot hooks for your PCs.
If you're a player
, you get more ancestors to choose from, more feats to support them, and more alternate class features. You also get even more ways to distinguish your Ikanikon character, including astrological signs and run-ins with sprites.
If you didn't buy
Martial Flavor
, this book still has all you need to put the Ikanoi in your game. If you did, there's tons of extra content that simply wouldn't fit into the main book just waiting to be explored.